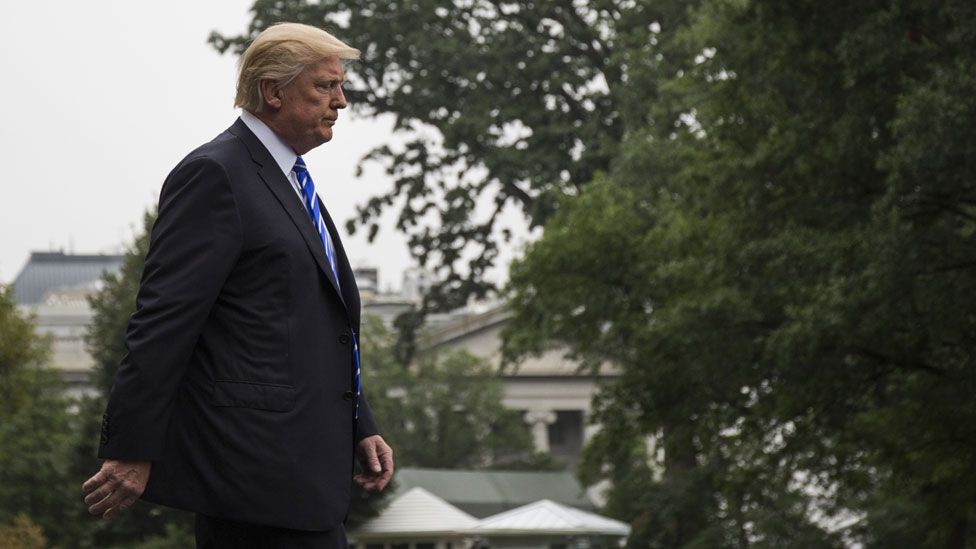 Donald Trump came into office promising to change the face of American politics and transfer power "back to the people". So what has he achieved so far, at the six-month mark?
We're tracking the president's progress on his agenda and how it is received by the American public
How are his approval ratings?
Donald Trump is one of the most unpopular presidents in the modern era. His approval rating is languishing at 39% after six months in office, according to Gallup.
Presidents Barack Obama and George W Bush were both on 56% at the same juncture. One has to go back to Gerald Ford in 1975 to find a president with such low numbers.
Ford was also on 39% after six months in office, according to Gallup, following his politically radioactive pardon of predecessor Richard Nixon for the Watergate scandal.
But Mr Trump's disapproval rating (56%) is far higher than Ford's (45%) after the half-year mark.
When Mr Trump assumed office on 20 January he had the lowest approval rating of any incoming president. He won the election with anaemic numbers, so it's unsurprising they're still poor.
What may alarm the White House is some opinion polls indicate support is slipping for Mr Trump among his core voters, including white men without a college degree and rural Americans.
If his ratings continue to feel gravity's pull, expect mutinous murmurs to be heard in the Republican ranks as Congress gears up for the November 2018 midterms.
---
Has Trump moved to cut illegal immigration?
Immigration was President Trump's signature issue during the election campaign and he has signed a number of executive orders designed to fulfil his promises.
One of his first orders declared that the US would build a "physical wall" or "impassable physical barrier" along the border with Mexico, which already has some 650 miles of fencing.
But Mr Trump needs congressional approval for funding before construction can begin and that is yet to happen. He insists the costs will be recouped from Mexico, despite its leaders saying otherwise.
While President Trump is yet to change US immigration laws, he has signed two executive memos that instruct immigration officers to take a much tougher approach towards enforcing existing measures.
There are signs that this change in immigration enforcement – and President Trump's tough rhetoric – may have led to a drop in the number of people trying to cross illegally into the US.
In March, the number of people apprehended while crossing from Mexico fell to its lowest level for 17 years, according to Homeland Security Secretary John Kelly.
Mr Kelly said the drop was "no accident" and the Customs and Border Protection agency said President Trump's executive orders had led to a "marked change in trends".